AEW's women's division is finally on the way
A rising price lifts all boats, I'm told. On the women's side of AEW, the Tide has looked fairly stagnant for pretty much its entire three-plus year existence, with the occasional spurt promising more but rarely resulting in a change in elevation. Jamie Hayter's Women's Championship obviously changed the direction and structure of the entire division, although she didn't want to put too much on her shoulders (although they could take almost anything).
Renewed Optimism — which, to be clear, has yet to come to fruition — appears to be the first all-female story unrelated to the title. For so long, the biggest story and feuds of the women's division were only the title matches, which were usually one or two weeks before the pay-per-view or Dynamite they were on it. It still led to some great matches and some wrestlers, but they rarely went week by week for months on end for everyone to see what would happen next.
That seems to be changing. The rift within the division when Saraya and Toni Storm flipped and created a rift between wrestlers who developed in AEW and those who came from elsewhere (eg WWE). Somewhere in the spring or summer, the guts match (obviously where we are going). He even caught one in the middle. Ruby Soho, who is currently positioning herself as the original side of AEW, but could be ready to turn everyone around at a moment's notice. While AEW already has the company's biggest female stars in Hayter and Britt Baker, along with Willow Nightingale and Hikaru Shida, even a Ruby circle only has three along with Toni and Saraya. Gee, who could will end up being the fourth? (I hope I hope I hope I hope…)
We've already seen the brilliance that Hayter produced with Storm, and Storm and Shida did the same. Drop Ruby either way, Willow, and there are only so many matches Tony Khan can play to keep it that way. It's the kind of setup that makes fans do all the permutations and fantasy bookings in their heads, which is exactly what AEW should want. This will constantly throw up new matches, alliances and feuds. It basically feeds on itself, which women didn't really have. Outside of Bryan Danielson chasing MJF, this is the best story in AEW.
Hayter has a lot of merit, and for a few reasons. One is that he rose organically to the top of the card, which always brings more fans and more passion. He got there simply because he was so good in the ring and had such great matches that the company had no choice but to push him higher and higher. Second, it not only raised the quality of matches in the division, but also the perception of quality. Fans are used to seeing better quality, removing one of the (false) reasons why Khan didn't have to play as many women's matches on TV. Fans have now come to look forward and demand more. Third, it showed that AEW didn't need a name that fans knew before they got any TV time to get fans to latch on.
AG/O Media may receive a commission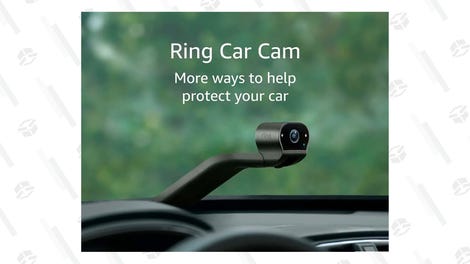 It's a camera. For your car.
Ring Car Cam's two-sided HD cameras record the activities in and around the car in HD detail.
It's the back story that AEW has done quite a bit of work under the surface to improve the in-ring work of a number of wrestlers. Dark and Dark: Height. For example, we've seen a few Jade Cargill vs. Red Velvet matches in the past, but last night's match was a level or two above the rest. Skye Blue could do it pull this shit out just a few weeks ago, less than two years after AEW. They are hardly alone. Hayter may have been instrumental in raising the bar for women's matches in AEW, but the floor came with it.
A minute bit…
This does not mean that everything is rosy. Even though last night's Dynamite had three women's segments, it was still only one match, and it was still in the 9:30 EST time slot, which has basically been the standard slot for the division since AEW's entire existence. They rarely ran a show (a slot that AEW basically treats on the same level as the main event) and they only hosted Dynamite slightly more often. Hopefully, when AEW v. Outsider angle really kicks into high gear, that changes. I have to.
Let's be honest, there's still a big fish swimming around, and that's Mercedes Moné. No matter what his character is, he's still "Boss Neighbor" and it's hard to fathom how the role of coming in to teach these AEW kids a lesson about what a real wrestler looks like doesn't hit him right in the eye. Even if only for a few games, even if only for a year or two, this is the ultimate juice of the division. Sasha Banks has never had to be in a War Games/Blood & Guts match, and you have to believe that Mercedes dreams of all the things she can do in one. The sudden increase in the quality of in-circle work also looks like he's on par with Mercedes, and he has several matches that fans would die for. But for now it's just a dream.
And as strange as it sounds, the women's division is not need Mercedes. Much like Hayter's rise, this factional feud was only fueled by the attitude of the fans. And just like with Khan Hayter, all he has to do is blossom.

Source: https://deadspin.com/there-s-still-some-way-to-go-but-the-aew-women-s-divis-1850066119