Alien chic to clown shoes: 10 of the most absurd style trends of 2023
(Image credit: Getty Images)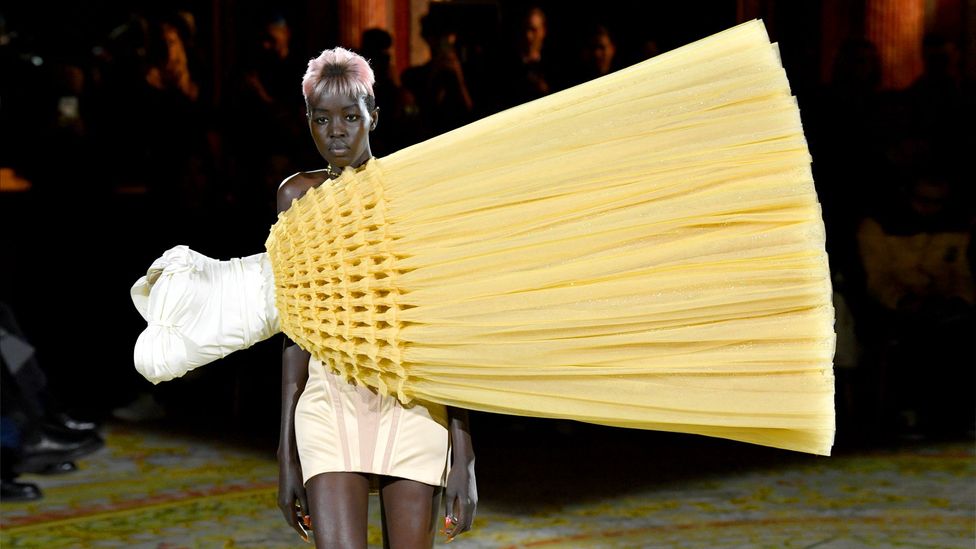 From big knickers to alien chic and inflatable fashion, here are some of the year's most out-there, playful and controversial looks, writes Daisy Woodward.
L
Last year, an abundance of attention-grabbing sartorial trends, spanning Barbiecore through to big suits, proved that, after two years spent largely indoors in loungewear, we were ready to embrace more eccentric means of expressing ourselves sartorially.
More like this:
–          Is this the most absurd trend of the year?
–          Can Victoria's Secret fix its image?
–          Iconic images of glamorous stars
And this year, it seems, we've only gathered steam, gravitating towards the absurd, the alien, the attention-grabbing and the flesh-flashing. Here, as 2023 draws to a close, we reflect back on some of its most extreme trends, both on and off the runway, from the playful and provocative to the clownish and controversial.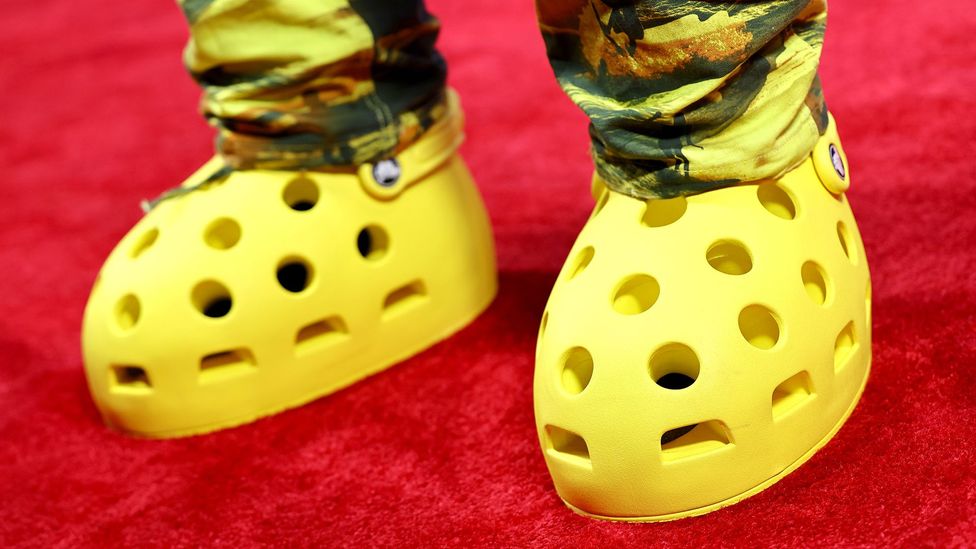 The clownish, clompy shoe trend was among the year's most fun but absurd looks (Credit: Getty Images)
1. Huge shoes
Cartoonishly clompy footwear has been one of the year's most eye-popping trends, kick-started by the launch of the "big red boot" from US label MSCHF in February. The attention-grabbing, Astro Boy-channelling boots went viral on TikTok, proving a hit with celebrities like Lil Nas X and Iggy Azalea. Since then, the craze has only grown bigger, with high fashion brands like Marni, Prada, Loewe and Proenza Schouler offering up their own take on comically oversized, "clowncore" shoes. Evoking everything from manga to clowns, from 70s disco attire to the Spice Girls' platform trainers, the rising popularity of massive shoes signifies a collective sense of nostalgia and a desire to stand out. Read more about it here.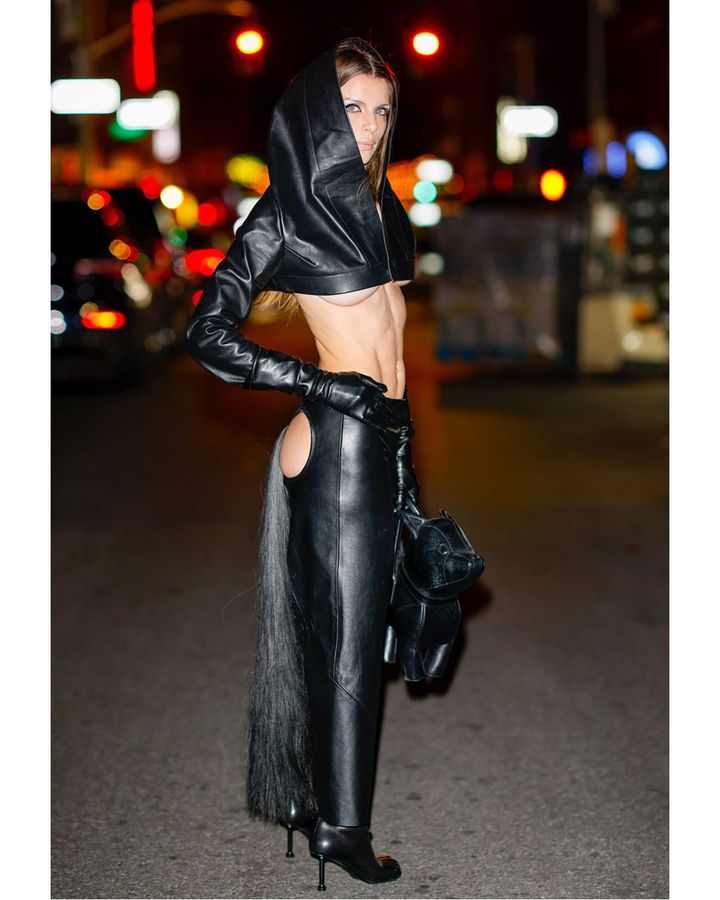 Julia Fox was on trend at New York fashion week in her extreme cutout ensemble (Credit: Getty Images)
2. Extreme cutouts
Cutout clothing – garments with strategically snipped sections designed to reveal the skin beneath – first emerged in the 1930s but it wasn't until the 1990s, when designers like Thierry Mugler and Tom Ford turned their shears to the trend, that it truly took off. The latest iteration of the cutout craze has reached full fruition in 2023, rendering exposed abs and framed belly buttons part of the fabric of contemporary design. Julia Fox has sported some of this year's most extreme examples, including an all-leather ensemble by The Uncommonist, replete with buttock-exposing circular cutouts and a horse tail. Meanwhile brands including Diesel, LaQuan Smith and Ann Demeulemeester all sent models down the autumn/winter 2023 runway with sizeable sections of skin on display.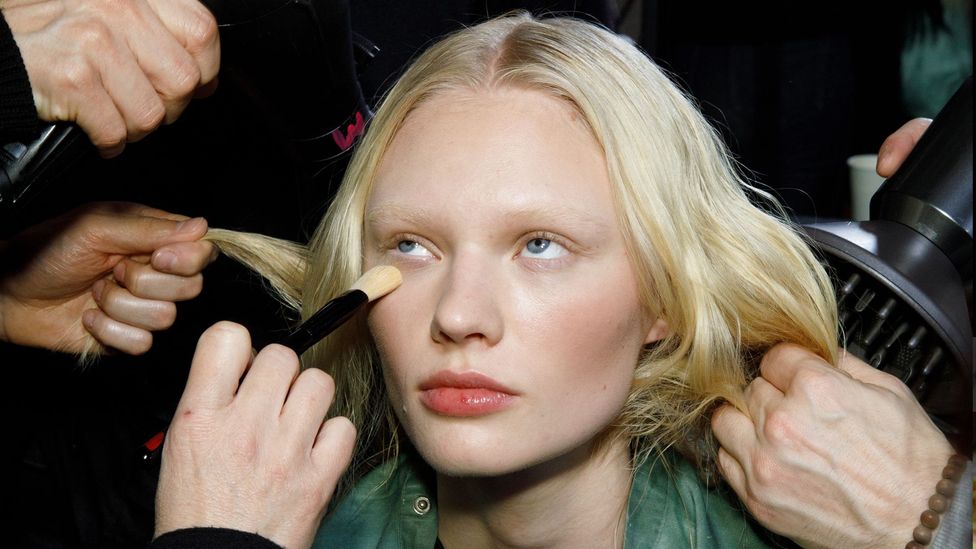 The bleached brow went mainstream in 2023 – with the look trending on TikTok (Credit: Getty Images)
3. Bleached eyebrows
One of the beauty industry's most divisive trends, the bleached brow – which this year has gone mainstream – makes a particularly bold (or should we say bald) statement. Dating back to the Elizabethan era where a high, bare forehead was the look du jour, according to researcher Rachael Gibson in W Magazine, the modern take on "no brow" aesthetic gained popularity in the 1990s. Sported by club kids and models alike, the fad was viewed by some as the ultimate anti-beauty assertion, while others embraced its ethereal edge. Last year saw celebrities (most notably Kendall Jenner at the Met Gala) and fashion houses (think Versace and Marc Jacobs) reach for the bleach once more, while this year has seen the trend garner mass appeal, as evidenced by an abundance of TikTok tutorials on the subject: searches for "bleached brow" on the platform have amassed more than 124m views.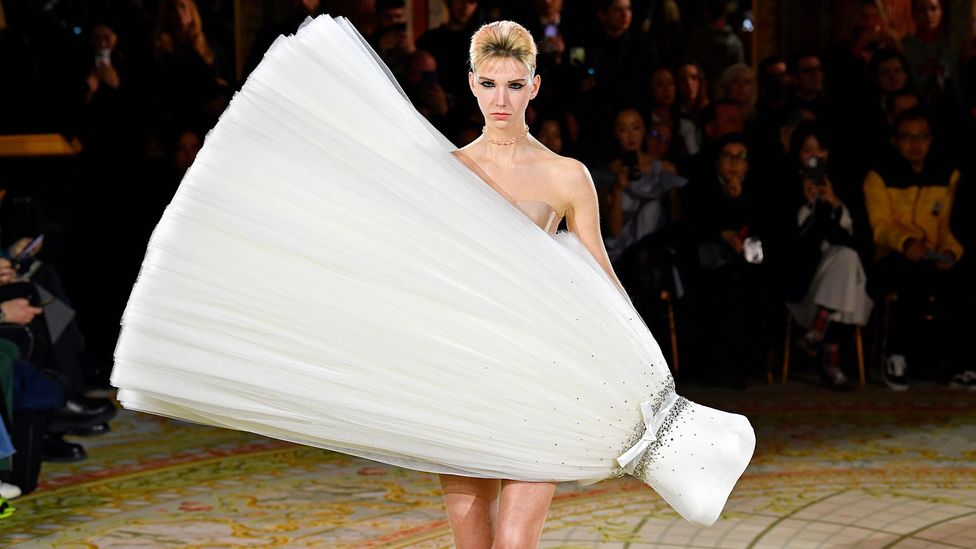 Viktor & Rolf's catwalk show featured tulle ball gowns worn at unexpected angles (Credit: Getty Images)
 4. Catwalk chaos
When you can't calm the storm, embrace it: such was the message behind two of 2023's most memorable runway spectacles. For their haute couture spring/summer 2023 show, Dutch design duo Viktor & Rolf presented a "parade of dreamy, romantic tulle ball gowns" which began to free themselves from the models' bodies as the show progressed – some jutting out sideways, others turned completely upside-down. Dubbed "late-stage capitalism waltz", the collection poked fun at fashion's fondness for finery, while simultaneously showcasing the breathtaking skill required to conjure haute couture creations. AVAVAV designer Beate Karlsson similarly co-opted chaos for the presentation of her autumn/winter collection in Milan, where heels and bag straps snapped and broke, garments appeared ripped at the seams and pearls scattered the catwalk in a playful critique of fashion's tendency to take itself too seriously.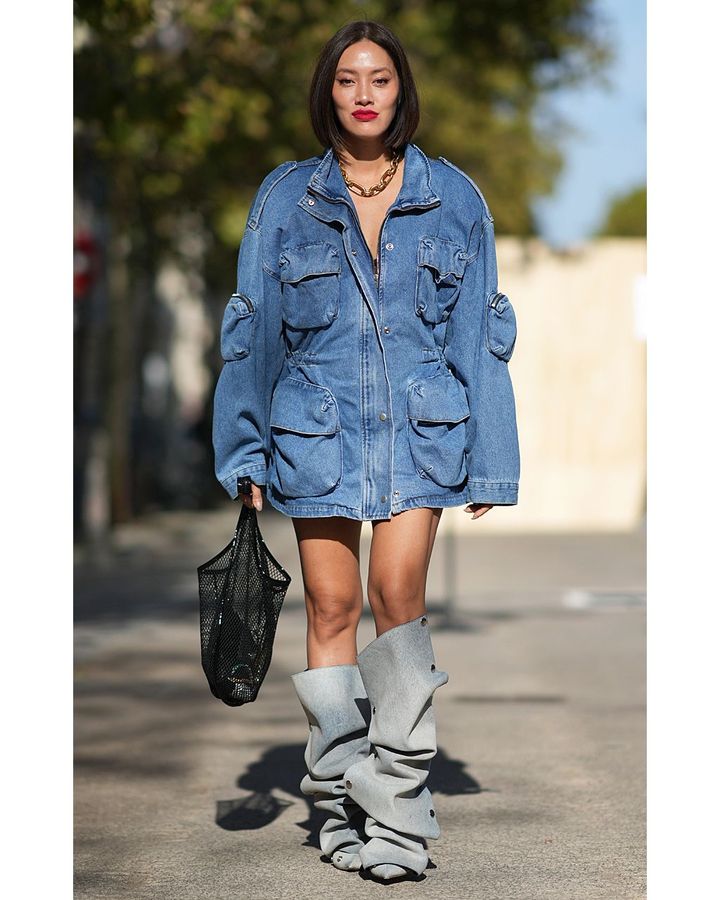 This year has seen an appreciation of double (or even triple) denim (Credit: Getty Images)
5. Double denim
If you thought double denim had reached its peak in the 2000s when Britney Spears and Justin Timberlake stepped out in their matching blue-on-blue ensembles, think again. The trend has re-established itself with a vengeance in 2023, with surprisingly elevated results. Marine Serre, Versace, DSquared2, Stella McCartney and more have championed all-denim outfits in their various collections, showing the look to be both cool and sophisticated when well executed. The fad feeds into this year's burgeoning appreciation for all things cowboy, from the rise of the "coastal cowgirl" trend, a beach-meets-Western aesthetic, to Business of Fashion's revelation that in 2023 US and UK retailers introduced 240 percent more new styles of cowboy boots (see below) and denim shirts than they did last year.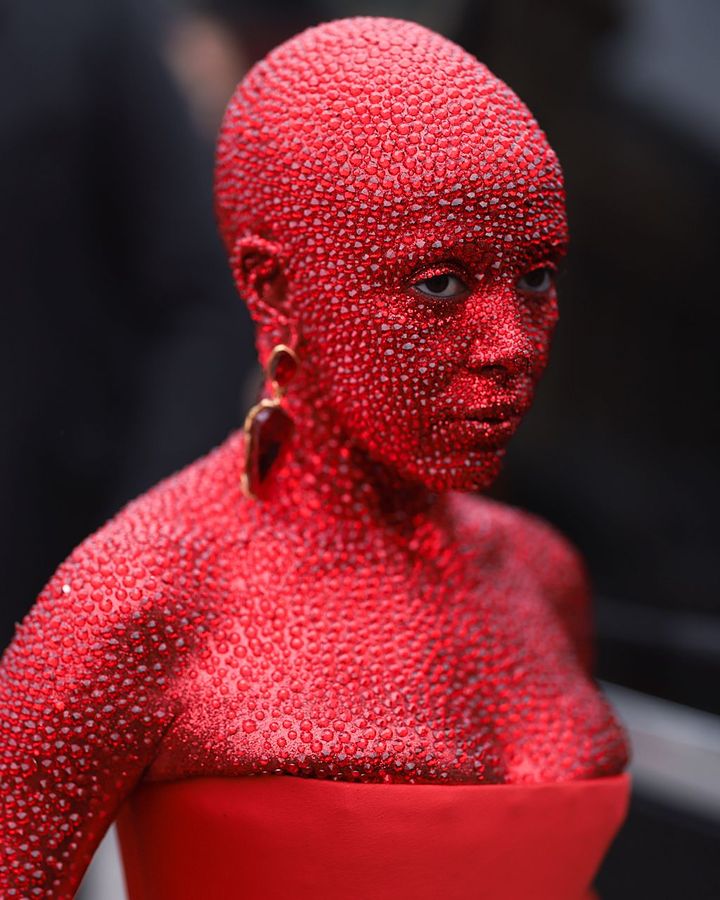 Doja Cat wore a crystal-encrusted look in January – setting the extraterrestrial tone for the year (Credit: Getty Images)
6. Otherworldly chic
For those with more extraterrestrial tastes, otherworldly adornments have been making waves in 2023. Doja Cat set the wheels in motion when she arrived at the Schiaparelli Haute Couture autumn/winter 2023 show in January looking like she'd been beamed down from a luxury spacecraft, her entire face, head and torso covered in 30,000 crimson Swarovski crystals. At Thom Browne autumn/winter 2023, an array of alien-channelling models in planet-spangled dresses and headwear stomped the runway, sporting ultra-long, curly finger and toenails – one of the season's most extreme beauty moments, alongside Rick Owens' troupe of otherworldly beings wearing contact lenses that made their eyeballs an inky black.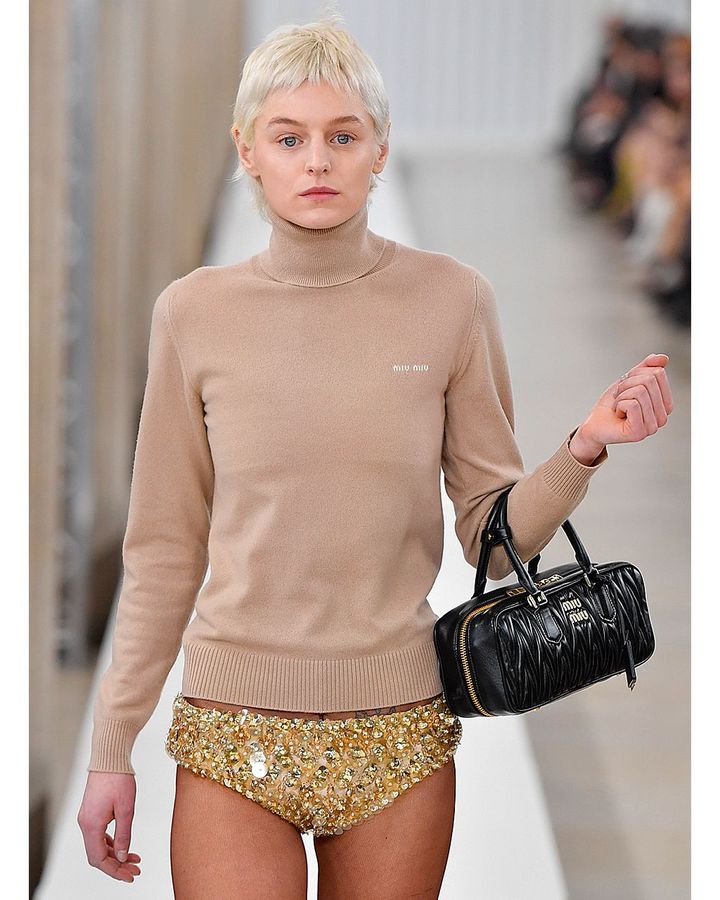 Emma Corrin modelled sequin knickers for Miu Miu; undies as outerwear was a key 2023 look (Credit: Getty Images)
7. Underwear as outerwear
Turning tradition inside out, knickers have officially been deemed fashionable outerwear in 2023. Ever the influencer, Kendall Jenner was one of the earliest pioneers of the trend, causing a media frenzy when she stepped out in an underwear-over-tights look from Bottega Veneta's spring/summer 2023 collection at the end of last year. Miuccia Prada took the trend one step further, placing panties front and centre of the Miu Miu autumn/winter 2023 runway show, and soon everyone from Tom Ford and Victoria Beckham to Gucci and Acne had followed suit. Indeed, as per a Vogue runway report, 38 percent of designers showing at Paris Fashion Week spring/summer 2024 featured panties in their collections.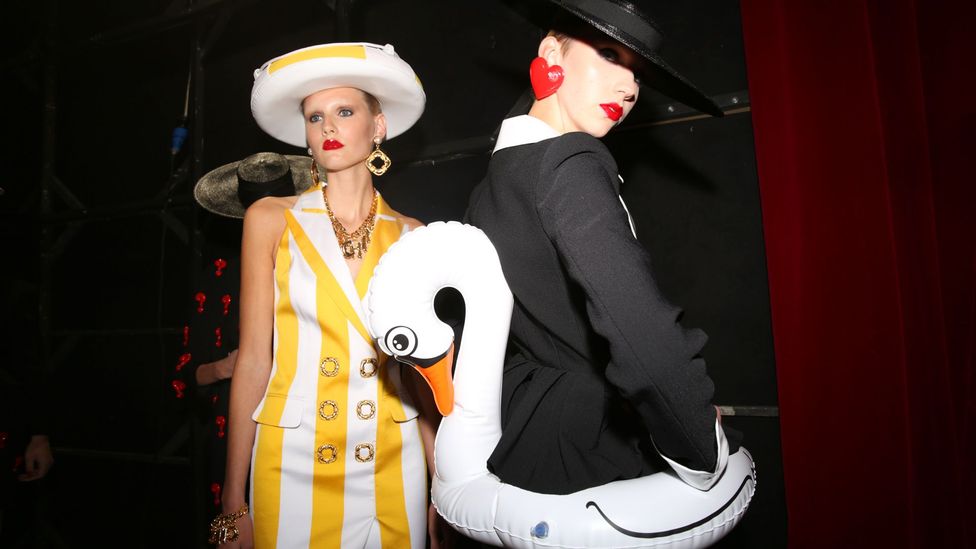 Moschino's attention-grabbing "inflation chic" brought exaggerated shapes to the catwalk (Credit: Getty Images)
8. Big shapes
Dramatic shapes have proved another key look this year, reiterating the ongoing mania for maximalism. This extends from oversized silhouettes – like the hip-exaggerating hoop skirts dotted throughout the Dior spring/summer 2023 collection or Gucci's statement coats for autumn/winter 2023 in puffy shearling – to theatrical detailing. For instance, the long, uber-pointy collars that punctuated Prada's autumn/winter 2023 menswear collection or, most eye-popping of all, the shapely inflatable pool toys envisaged as necklines, hemlines and embellishments on Jeremy Scott's already sculptural dresses for Moschino spring/summer 2023.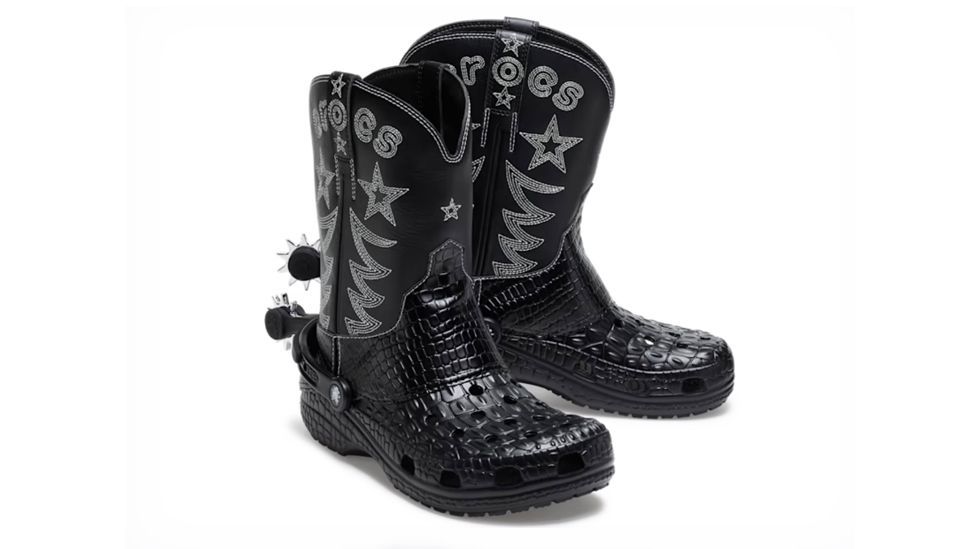 Cowboy boot Crocs were an unlikely hit this year (Credit: Crocs)
9. Cowboy boot Crocs
In a release no one expected, Crocs caused ripples at the end of last month when they launched their rubbery take on the cowboy boot. Possessing the brand's familiar clog-shaped toe, the black boot taps into 2023's prevailing western aesthetic, featuring "high-shine croc-embossed texture and bold western-inspired stitching", rounded off by spur charms. This is the second major boot moment for Crocs this year – in August they paired up with MSCHF for "the big yellow boot", as mentioned earlier, a holey version of its big red predecessor, proving themselves to be hot on the heels of the year's most fanciful fixations.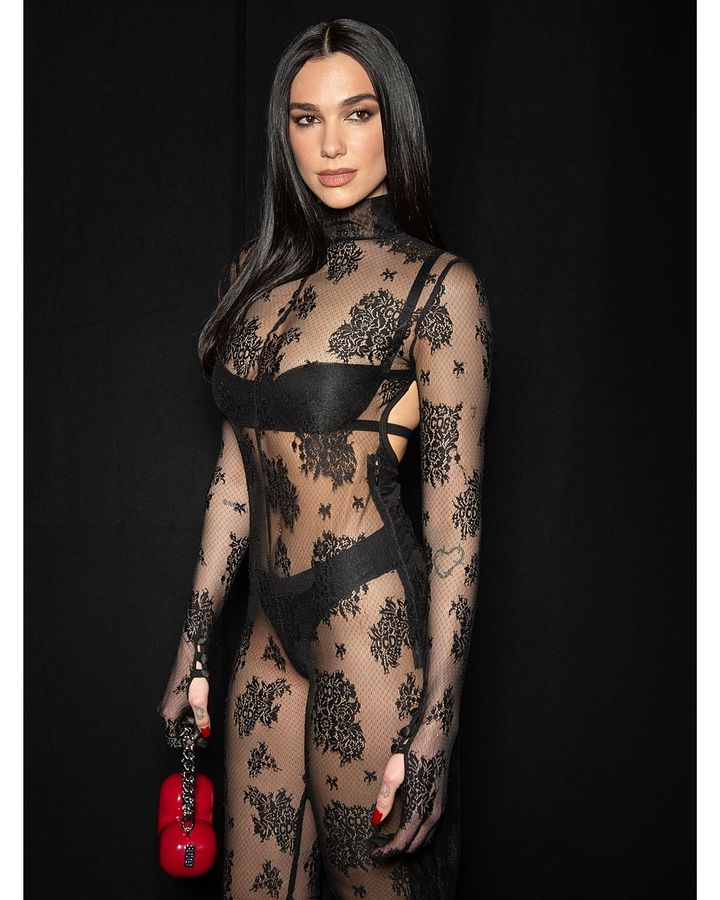 Dua Lipa was among the glamorous celebrities who favoured a daring, ultra-sheer look this year (Credit: Getty Images)
 10. See-through clothes
Officially confirming 2023 as the year we decided to bear all, see-through clothing is one of this year's most ubiquitous style choices. From the slightly sheer to the totally translucent, diaphanous dresses, tops and skirts have dominated the runway and the red carpet, appearing at Alaïa, Acne, Bottega Veneta and beyond, and on everyone from Dua Lipa and Kate Moss to Florence Pugh and Rihanna. Meanwhile, rising Albanian designer Nensi Dojaka has proved one of the most popular pioneers of the trend, reimagining wardrobe staples in delicate organza and tulle, resulting in some of its most wearable, yet fashion-forward examples.
If you liked this story, sign up for The Essential List newsletter – a handpicked selection of features, videos and can't-miss news delivered to your inbox every Friday.
;
Source: https://www.bbc.com/culture/article/20231115-alien-chic-to-clown-shoes-10-of-most-bizarre-style-trends-of-2023?ocid=global_culture_rss