Dejan Joveljic's penalty conversion lifts Galaxy past Earthquakes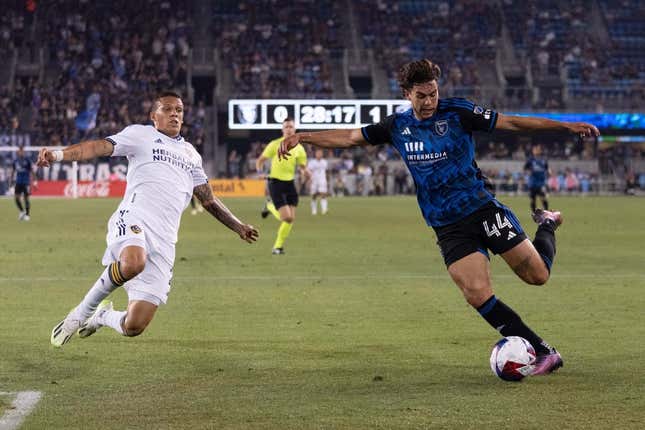 Dejan Joveljic converted a tiebreaking penalty kick in the 61st minute and the Los Angeles Galaxy went on to a 3-2 win over the host San Jose Earthquakes in the California Clasico on Wednesday night.
Michael Oher On New Book, NFL, The Jets, Aaron Rodgers, Running Backs Contracts & He Sings!
Riqui Puig scored the tying goal 11 minutes earlier as Los Angeles (7-10-7, 28 points) improved to 5-1-4 over its last 10 MLS matches. Tyler Boyd also scored for the Galaxy.
Jeremy Ebobisse scored for the Earthquakes (9-9-8, 35 points), who lost their second straight match. The other San Jose tally came on an own goal by Calegari of the Galaxy.
Los Angeles went 2-0-1 against San Jose this season.
The penalty kick was set up by a foul in the box in the 58th minute by San Jose's Miguel Trauco, who tripped Raheem Edwards.
Three minutes later, Joveljic took the kick. Earthquakes goalkeeper Daniel went low and Joveljic ripped a high blast into the center of the net. It was Joveljic's third goal of the season.
San Jose had two big chances in second-half stoppage time. Cristian Espinoza hit the crossbar with a long shot from the right flank in the first minute. In the sixth minute, Rodrigues scored but was ruled offside.
Jonathan Bond made two saves for Los Angeles. Daniel had two for San Jose.
The Galaxy trailed 2-1 at halftime but knotted the score on Puig's goal in the 50th minute.
Edwin Cerillo fed Puig just inside the midfield line and the latter sped upfield. When he neared the top of the box, Puig sent a right-footed blast that hit the right goalpost and caromed into the net. It was his fifth goal of the season.
Los Angeles struck first in the 16th minute when Boyd sent a right-footed blast into the net for his sixth goal of the season.
San Jose later moved into the lead with two goals in two minutes.
Espinoza took a shot that Calegari deflected with his head, allowing the ball to zoom past Bond to tie it in the 29th minute.
Two minutes later, San Jose moved ahead on Ebobisse's goal. The goal was Ebobisse's eighth of the season, but his first since June 10.
—Field Level Media
Source: https://deadspin.com/dejan-joveljics-penalty-conversion-lifts-galaxy-past-ea-1850790803?utm_source=regular