Jawaan Taylor no-calls help Patrick Mahomes, KC Chiefs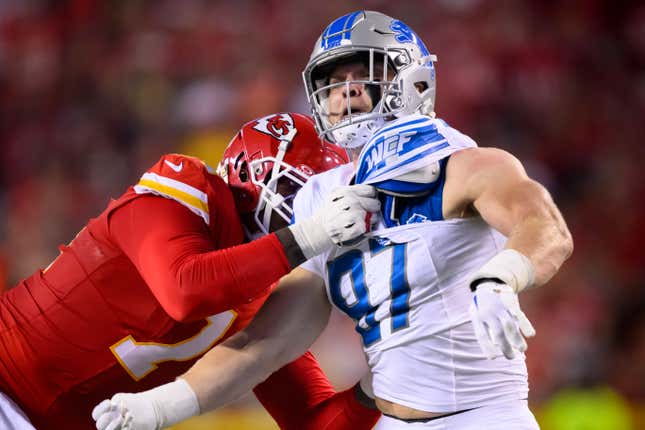 Facing Patrick Mahomes already presents unique challenges for pass rushers. Getting past the blockers may not even be half of the battle. Mahomes moves around in the pocket with the agility of a gazelle trying to avoid becoming lunch. Trying to corral him should not be made harder by the Kansas City Chiefs offensive line being allowed to play as if the rules don't apply to them.
Who wins the Super Bowl next year?
Your eyes are not failing you, Jawaan Taylor has been offside all night. He has been criticized on social media for beginning his kick-slide prior to the snap. However, it was another issue that had NBC rules analyst Terry McAulay borderline annoyed at the end of the third quarter of the Chiefs' season-opening matchup against the Detroit Lions.
Broadcasters Mike Tirico and Cris Collinsworth had been suspicious of Taylor's alignment since early in the game. They did not believe that he had been lining up properly on the line of scrimmage. Tirico asked McAulay what officials look for when making sure the offense is in the proper position. McAulay said that Taylor's helmet should be past the center's waistline until the ball is snapped, and his helmet had not been "remotely close," all night.
Taylor is basically already in prime pass-protecting position before the opposing defensive lineman begins his pass rush. Getting around a 300-plus-pound man is difficult enough in that tight rushing lane. When the offensive lineman is already set and can shuffle to wherever necessary to stifle the defender, the task is significantly more difficult.
He was finally called for a false start at a critical moment, late in the fourth quarter.
Mahomes is already as slippery enough as it is. His pass protectors don't need any extra help. Also, the Lions' coaching staff, get it together and point this out to the refs.
Source: https://deadspin.com/patrick-mahomes-jawaan-taylor-chiefs-lions-1850816561