Rockies give up six runs in lead but rally past Mets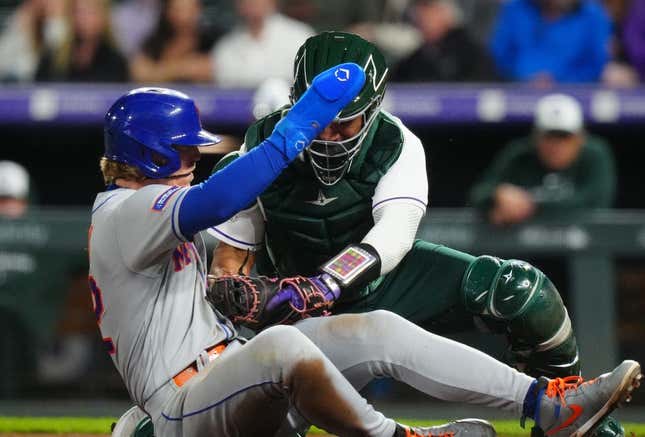 Ryan McMahon scored between two hits, Jurickson Profar tripled, thus extending his regular season streak to 34 games. Colorado Rockies beat the New York Mets Saturday night from 10-7 in Denver
Honor the real Pat Tillman this Memorial Day
Nolan Jones, Elias Diaz, Harold Castro and Randal Grichuk each had two hits, Justin Lawrence (2-2) got the win in relief and Pierce Johnson picked up his 11th save. Rocky Mountain
Pete Alonso and Francisco Alvarez each had two hits, and Jeff McNeil and Mark Vientos also had two hits for New York.
Colorado trailed 7-6 in the seventh, but rallied against Jeff Brigham (0-1). Diaz led off with a double and McMahon singled to right for his sixth of the season Rocky Mountain at the forefront
Colorado added two more on Profar's RBI triple in the eighth and Diaz's single.
THE Rocky Mountain he broke out in the second inning against Justin Verlander. Jones had an RBI single, Alan Trejo hit a run-scoring double, Charlie Blackmon drove in two with a double and Profar delivered a sacrifice fly.
Jones' RBI double made it 6-0 in the third.
Verlander allowed six runs on nine hits in five innings.
Alonso's 20th home run made it 6-1 in the fourth, leading the majors.
THE Mets Reliever Brent Suter picked up the sixth spot. McNeil and Alonso led off with singles, with McNeil scoring on Brett Baty's double and Alonso scoring on Sterling Marte's third.
Baty threw out at home and tried to score on Matt Canha's fielder's choice. Vientos singled, Jake Bird relieved Suter and Alvarez singled to left to tie the game. It was his seventh of the season.
It denied Chase Anderson a win in his third start for Colorado. He allowed one run on four hits in five innings.
THE Mets led off Bird in the seventh. McNeil led off with a walk, went to second on a groundout and Marte singled to make it 7-6.
— Field Level Media
Source: https://deadspin.com/rockies-relinquish-six-run-lead-but-rally-past-mets-1850483264