Sharks goaltender James Reimer refuses to wear Pride warmups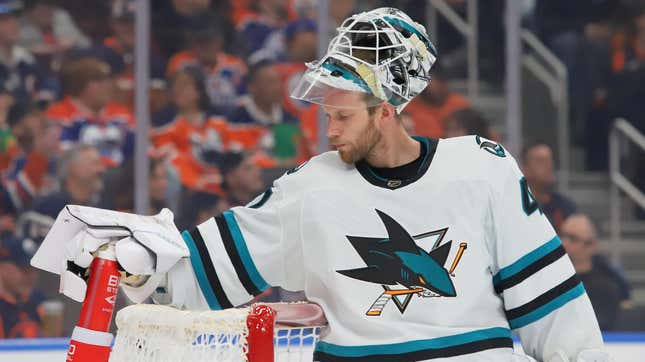 Another NHL team they had to be angry with them Pride Night and sweatshirts this past weekend. This time it was the San Jose Sharks and goaltender James Reimer. It was the same crap we heard from others, although the Sharks put him on his own island to explain himself, which is half-assed as they continued with the rest of their Pride Night plans and every other player wore it. shirts. Reimer was still allowed to make his own statement, making the night more about him than the gestures of the Sharks organization. making. And they still let him off the hook with the bland and predictable "respect everyone's beliefs" blackmail that other teams have resorted to. This is only true if one's faith is worthy of respect, when fanaticism is never.
But it's probably best to let an openly gay hockey player say it best, as Luke Prokop of the Predators system did last night:
What needs to be reinforced are hockey's attempts, however obvious and halfway, to be friendly. Simply sending Reimer home without comment while the Sharks released a statement saying his views did not reflect the organization would have done so. Players like Reimer don't deserve any platform. At least that puts the focus where it needs to be.
But hockey's fetish for putting team above all else would probably never allow that, so some teams don't wear Pride jerseys at all to cover teammates who don't want to wear them (and it should be noted that some of the Russian players they refused, fearing retribution for them or their families back home in Russia. Even if Reimer was alone, he had to try to save face enough to not feel ostracized by his team. Which he deserved.
Source: https://deadspin.com/san-jose-sharks-james-reimer-pride-night-warmup-nhl-1850247879